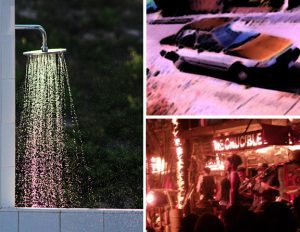 Shower image: Chandler Cruttenden. Others:  Rachel Medanic.
It's Epilogue time, the final part of the wrap on Agile Vocalist's 1st Anniversary celebrations. 🎉🎉🎉 Listen to shorts from the past year about my guests' most creative places–where they find themselves immersed in new ideas and inspiration.
Top two creative places include the shower and the car! Also listen as they also share their partial post pandemic visions for future of the arts and how the arts can thrive in this new mixed reality. 
To listen to this epilogue as a podcast, search for Agile Vocalist anywhere you get your podcasts.
Still feel like using your listening powers? Name ANY all of the three songs I'm singing in my most creative place (the shower) in the comments below. During anniversary month you could still win some fun!
Anniversary Cookies
My intro/outro artist and I did some celebration of my bedroom as a creative place by making cookie art! Look at that logo replication – NAILED IT! Afterward, we played Jenga with the remnants. Girl Scout cookie designs may be a creative place we like to dwell when that time of year rolls around.
Anniversary Quiz Results
I launched an Anniversary quiz to celebrate the podcast's first year! For listeners and non-listeners alike, this quiz was for folks with a little bit of music knowledge and good powers of observation as my guests talked about their most creative places. Here is how our Anniversary quiz-takers fared: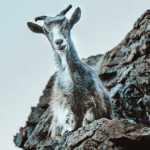 Image: Maria Teneva
Congrats to all, you ROCKED Questions 2, 3, 5, 7, 14 & 16! (The goat is on top and in the rocks). Sorry visual pun!
All quiz takers hit the minimum 6 right answers and were entered in the drawing. Here are the right answers if you're just now tuning in:
Question 2:  Agile Vocalist is a blog and a podcast.
Question 3:  A music vigil is a performance at the bedside of a seriously ill or terminal patient.
Question 5:  My skin prickles with joy on this! You all KNOW your Fifth Dimension. The group? Obscure to some. The song? Super famous! Listen to how they sang it at the Summer of Soul festival in 1969:
Question 7:  Yes, it was Opal Nations who sang and played us a sample of "clanka lanka" gospel from his vinyl record collection.
Question 11.  Yes, African American women are the under-recognized artists who helped birth the blues. We learned about this and the show she has about this history from vocalist, Pamela Rose.
Question 14:  Researchers at Cornell define Reminiscence Bumps as the brain's connection between music and your adolescent years.
Question 16:  Compact audio memoir, first introduced here, is a short sound story.
Questions that Stumped You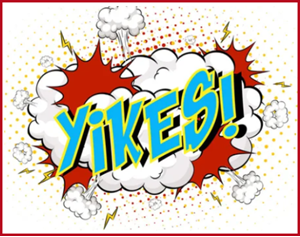 Question 1:  This was the question with the largest number of WRONG answers! Shipwreck, immigration, and speech impediment were all correct. The trick answer was that no one actually told me they got hit by instruments falling out of a closet!
Question 4.  It was Joshua Silverstein who taught us a new definition of the word "sypher."
Question 6.  DJing is the musical profession and Agile Vocalist episode where we learned about the word crate from DJ Justin James! It's how DJs used to carry their music to gigs. Times have changed!
Question 8.  It was Indian classical vocalist Vidya Srinivasan who sang to us in 4 languages: 1) A Carnatic song in Telegu (an Indian language) 2) A Tamil song from a film 3) A Hindi song from a film and 4) An English song by Adele.
Question 9.  Agile Vocalist went podcast in October 2021.
Question 12.  Hrishikesh Hirway, creator of Song Exploder which had a brief incarnation as a Netflix series, perfected a cookie recipe.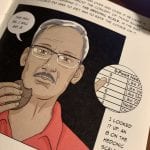 Hirway's Dad rating his son's cookie recipe on the Hedonic Scale.
Question 13. As a teenager, I weaponized the zaghareet to get back at my bully father.
Question 15. The two episodes that mention JackTrip, a technology for making music together simultaneously via the internet were:  The Screaming Fields and my interview with Brian Walker.
Question 17.  You CAN actually get Agile Vocalist on Agile Vocalist on Amazon Music and Podbean! I've also added iHeart Radio too. Update:  As of September 2022, Podbean is no longer a carrier of Agile Vocalist.
Question 18.  The channel highlights video had just four guests.
Question 19.  Opal Louis Nations is our humorous short story writer. His episode begins with a reading of the Three Gospel Brushes and his musical artwork is amazing!
Question 20.  Cry Me a River is the actual torch song that's among the 5 most covered. That one was for the readers out there.

Our Winners
Happy to announce the Amy, Andrea and Melissa were our winners of the wine tumbler, Girl Scout Cookies, and a special Agile Vocalist friendship bracelet made by our intro/outro voiceover artist!
Agile Vocalist Loves Listeners
Did you enjoy this ? Share it with a friend or leave me a comment. You can also subscribe to get Agile Vocalist in your email to learn about new content.
Epilogue, Season 1 Transcript
Intro:  Agile Vocalist epilogue, season 1.
Voice:  Humming. Someone turning on a shower.
Rachel Medanic:  Agile Vocalist was at first called Wasting Water. It began during a drought in our bathroom
I knew that my most creative, uninhibited, and vocally expressive places were the shower and the car. But I also suspected I wasn't the only one who felt freest in those places.
Rachel:  Singing in the shower. [Tell me what song in the comments!]
I set out to shine a light on sound creators and the arts, two passions of mine. As I continued interviewing guests, the theme of bathrooms and cars started to come up in interviews without me asking.
Opal Nations:  The idea was to bring music into the bathroom. Because it's the best place to rehearse after all. It's got the best echo.
Joshua Silverstein:  I've been a professional beatboxer for imma say over twentysomething years. I've crossed the threshold from doing it at home in the shower to someone who actually gets paid to do it. And that really is the qualifier for professional. If you get paid to do it then you are a professional.
Performance clip:  Beatboxing performance clip from Spoken Funk.
Joshua (while beatboxing at the same time):  Why aren't you smiling sir, I don't understand!?
Rachel:  Singing in the shower. [Tell me what song in the comments!]
Pamela:  You know obviously acoustically, those tiles help a lot. Umm.
Rachel: [Laughs]. That's right.
Pamela:  So, we all sound a little better
Rachel:  It's the echo
Pamela:  Right, you have a little reverb going on.
Pamela:  But I get my greatest ideas in the shower, or driving. You know it's… and these days it's on my bike. I actually sing and hum to myself on my bike. I'm on my bike a lot.
Music:  Atlantis
Vidya Srinivasan:  Whenever we go on car rides. The car starts with a song. Car rides definitely are my favorite, especially when I'm driving to work. That's when I actually like, get to practice a lot. Practice, experiment, you know. I do a lot of that. A part of me is looking forward to going back to work and those car rides.
Sound: Car starting.
Rachel: singing in the shower. Tell me what song in the comments!
Sound: A car's emergency brake left on alert.
Mary Ford:  And then I would go home, and I would sing. I would sing in the car. I drove my family insane because I sang all the time. They couldn't stop me. We'd go on trips and I'd be singing, singing, singing.
Rachel:  Beyond the shower and the car, I encouraged several of my guests to imagine the future free from the grip of the pandemic. What, in one of the darkest times in history for the performing arts, would they bring forward in time? What undeniable silver linings would stay woven amid the fabric of their art?
Harp music:  Beauty Awaits, courtesy Harps of Comfort.
Brian Walker:  Well, I think because the technology actually works that it is a definite possibility that people who are living relatively far apart can make music together. And can even be in bands together. And at the very least can rehearse together.
Harp music:  Jennifer Hollis.
Jennifer Hollis:  I love the in-person work. And so personally, I would imagine a combination. But one of the factors of my whole career, because there aren't that many music-thanatologists, has been people call me and they say, you know:  Can you drive 500 miles away to play? You're the only one I know who is nearby, can you drive 500 miles away to play for my loved one? And I've always had to say "no." But now I know something new, which is I can play for that person remotely. And it really solves the problem for a very small field that, you know, has wanted to serve more patients but hasn't always been able to.
Rachel:  In my first year, I also learned to act on my instincts and create a world where we finally recognize artists are still our most forgotten essential workers. The journey from concept to execution is a rough one that requires constant practice!
Music: Rare vol. 15, DJ Just-IN Radio #12 mix by Justin James
Justin:  I always know what I want it to sound like in my head, it's a matter of if I'm talented enough or skilled enough to make that come out of the speaker.
Rachel:  Thank you to all my guests, my listeners, supporters, and creative contributors. I look forward to continuing to light up your ears and minds so we all recognize the power of sound as essential to our humanity.
Outro music:  Looperman.