When Covid-19 arrived in 2020, many industries were able to shift to online operations and resume a semblance of "business as usual." For the performing arts, business was anything but possible because of the internet gap which makes creating sound in unison (music, dance, musical theater) impossible.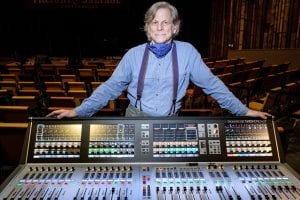 Brian Walker at the Freight & Salvage
Singing Together on the Internet During a Pandemic
In this conversation with audio engineer, Brian Walker, we talk through Brian's career and his work learning the JackTrip technology. Use of JackTrip dramatically reduces audio latency while preserving original audio quality.
Featured in our conversation are multiple demonstrations of JackTrip sessions being used in live  performances.
JackTrip is an open source software application that enables the live performance of music over the Internet. It can be used for rehearsing and performing among collaborators within a 250-mile area.
The cost of a JackTrip is $150. Each participant in a group needs to configure one to work via ethernet cable  in their home.
Groups also need a technical coordinator to manage and configure the JackTrip server.
About Brian Walker
Brian is an audio engineer who has had an extensive career recording, mixing and mastering audio for gaming experiences, consumer products, text-to-speech applications, and personal voice assistants. He's worked for LeapFrog Enterprises, Facebook, and Google.  
An expert in live direct-to-two-track recording, Brian spent the earlier part of his career as a touring Front-of-House engineer and Tour Manager for artists performing in the US, Canada, Europe and Asia. Brian is the Freight & Salvage's staff engineer and works on projects for Articulate Audio at San Francisco Bay Area-based venues, along with festivals and other venues.

Singing virtually (or, not) in a global pandemic
Sophisticated, global video tech still overlooks audio in unison use cases
JackTrip hardware solution
50 San Francisco Girls Premier Ensemble performs live using JackTrip
JackTrip setup overview (not too technical; more technical is linked to below)
Engineering sound at the Freight & Salvage in Berkeley during a pandemic
Mid-range performing arts venues in dire financial straights
What's it feels like to sing together using JackTrip
Worldsong Ensemble (Brian's singing group) performs:  "

Lamaa Badaa Yatathana" (a poem in Arabic) together

Worldsong Ensemble
Left to right:  Tawfic Halaby, Tesser Call, Michelle Gorthy, Kym McCourt, David Stern, and Brian Walker
Brian's upcoming class in May 2021:
Jamming Over the Internet will cover how to use JackTrip and Sonobus
In this episode:
Technical specifics for JackTrip
About JackTrip's history and its creator, Stanford Music Professor Chris Chafe
World Harmony Chorus
Article by Paul Kotapish, Editor of SF Classical Voice re: JackTrip
Full Seal Lullaby performed by San Francisco Girls Chorus
Did you enjoy this? Please share it with your arts and sound-loving friends, or leave me a comment. Don't forget to subscribe for more from Agile Vocalist.