Hey Mr. DJ, Put a Record On
Have you ever talked with a DJ before (other than to make song requests)? In this episode I talk with Justin James about what it's like to be a disc jockey (DJ) and sound artist who uses music and sound to engage people at events. What are the talents needed to get people to start to physically celebrate, raise the energy, go to the dance floor, and come together in response to music?
Dance Floor Architecture
I talk with Justin about his techniques as a Dance Floor Architect and his work as the founder of JustINtertainment, an events company with a team of DJs for hire. Justin's insights will help anyone understand the joy and skill needed to bring customized sound and musical experiences to the people.


In this episode you'll hear:
Justin's journey to becoming a professional DJ and founding his company Justintertainment, starting with curating and mixing music together back in the days of cassette tapes.
How Justin prepares a "crate" in advance for each event. A crate is essentially, a mini-library of songs he anticipates will work for that event. And, how that preparation actually works or doesn't in the moment!
Several segments of Justin's custom mixes of artists, beats, and riffs we know and love.
What the signals of success and failure are to get a crowd to engage by dancing. Hint:  Not every event is intended to be a rager (Justin's favorite type of event)!
Justin welcomed me into his home where he treated me (and you, listeners) to a custom sample mix right on the spot. Listen to Justin's intuitive and heart-led style of songs, sound textures, and creative transitions.
How Justin customizes sound for events such as weddings where people are from various places around the world.
The overplayed, tired, and yet obligatory songs that DJs still play, despite their own personal preferences.
What and who Justin listens to to get inspired, including his favorite DJ, DJ Jazzy Jeff.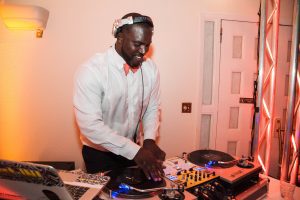 Justin James. Photo by Katie White.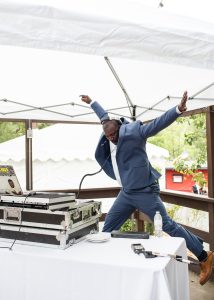 Want more about sound producing artists? Check out the episode with Brian Walker. Learn how he brought the JackTrip technology to musicians during 2020 enabling them to sing together, in real-time over the internet.
Did you enjoy this episode? Subscribe to Sound Cocktails  the most politely periodic newsletter -ever. It's how you'll hear in advance about February 2022 anniversary shenanigans and antics that YOU can participate in and win fun prizes!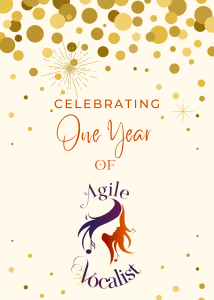 Agile Vocalist is available wherever you get your podcasts.
Episode Transcript:
Coming soon!