Above image: Hrishikesh Hirway
Do you like to take things apart, and learn how they were created? How about music and songs? Recipes? Both? It's good to obsess about the details of sound. 
I found Hrishikesh Hirway's Song Exploder, the Netflix series, before I found the podcast that preceded it, also called Song Exploder. Late in 2020, Hirway's Cookie Exploder entered my world as an amazing holiday gift box (thank you PopUp Magazine!). But first…a bit about Song Exploder.
October 2020 brought music lovers like myself something exciting that built on the famous podcast, Song Exploder was now a Netflix series that documents how songs came to be. I love Hirway's curiosity, imagination and…that he's a foodie (more on that in a minute)
Song Exploder:  Water in the Pandemic Desert
As a singer forced into digital music production in 2020 as a way to continue singing, Song Exploder's "how the 'sausage' of a song gets made" fascinates me. The series captures the moments of humanity and life being lived at the time the creators were living it while working together on the song. 
Song Exploder reveals how much expression, hard work, lack of glamour, obsession and more goes into making music. 
Song Exploder Episodes of Note
"Hurt," Nine Inch Nails
One of the more moving episodes about how pain is often a gateway to art and creating. It is amazing also in this episode and others to see musicians reflect on their work, and who they were, decades later. I'm not a Nine Inch Nails fan, but I am grateful to know this story where Reznor overcame his pain and is still alive (we lose so many artists when they are young). It's a gift for anyone to be able to share their light over a long life.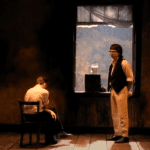 "Losing My Religion," R.E.M.
The practice of overplaying a song on radio makes me wonder if getting too popular changes not just the artists themselves, but also the audience? The Song Exploder episode also reveals that the band was also surprised that this was the song that skyrocketed them to fame. In my memory, I've held onto the song's  overplayed status. Popularity changes the equation for both the creators, and the fans. Sometimes overplayed leads to the dark road of: I don't like this song any more. That goes for artists and fans alike!
"Hasta la Raíz," Natalia Lafourcade
A beautiful story about a young woman from Veracruz, Mexico who grew to fame quickly and yet who was wise enough to then retreat from the limelight of fame as a means for taking care of herself. A gorgeous story that also includes a look into huapango folk music.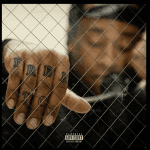 "LA," Ty Dolla $ign
I loved the story behind this and Ty's hometown pride. I marveled at his obsession of manicly going through instrumentalists to find the right ones. Wouldn't you just coach the ones you had to contribute differently? Never again will I fret at how much money I'm spending to create music. In the Song Exploder episode, Ty shares that he spent $75K on a strings section for the song and claims in the episode not to have had that money.
My business brain spins…so did he have to fundraise it? How do you fund a song? What's the midpoint between an unknown artist's GoFundMe to get a first album or song done… and someone like Ty? These are rhetorical questions. I raise them because my point is:  art is not what it seems. I'm guessing neither is fame. There are incredible talents (including resilience, stamina, confidence, belief in yourself and your art) that are required no matter what you are doing.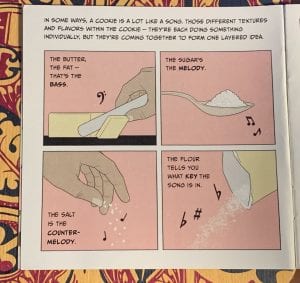 I learned that Hirway was himself a foodie. As part of a
PopUp Magazine box of curiosities to delight the senses
, Hirway's Cookie Exploder story arrived in graphic novel form, casually laying out the similarities in collaborating on a song vs. a cookie. Yes, the box included a package of cookies he worked with a local bakery to create. It also told the story of how Song Exploder came to be, including logically breaking down the ingredients in a cookie as if they were parts of a song.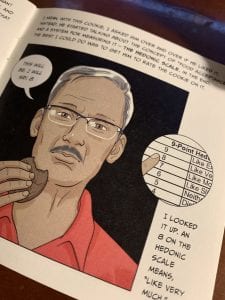 Hirway talks about his Dad who is a food scientist who never understood his son's choice to be a musician. His challenge is to get his Dad to make an emotional connection to his music. 
The disconnection with parents or our loved ones, is close to my heart and is an ongoing theme in this space. Hirway calls the recipe of him and his father, together:  "1 part language barrier, 1 part generational gap, 1 part cultural gap and 2 opposing personalities, and bring to a boil." 
We are not our parents, but often we walk in their footsteps. I hope Hirway takes this story further. Maybe I'll get to talk with him about it one day.
Subscribe to hear when Agile Vocalist has something new! And if you liked this piece, feel free to share it!