It's not common to think about the performing arts when you think about the end of life. Enter music-thanatology, a little known field where trained, accredited practitioners play harp music and sing in medical settings for terminal patients. Listen as I explored with Jennifer just how powerful sound is. This is the first of a two-part episode of my conversation with her.
Episode transcript:  Coming soon!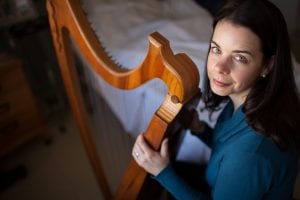 Jennifer built her own harp in 1996. It's a 31-string Gothic harp.
Beyond pharmaceuticals; music as medical care

The business of music-thanatology

How Jennifer finds purpose in her work 
Related links:
More about Jennifer
Jennifer plays "Come by the Hills"
Learn more about Harps of Comfort
Tour Jennifer's harp by Instagram video
Listen to part two of my conversation with Jennifer.
Did you enjoy this? Please share it on your socials, leave me a comment, or subscribe to hear more Agile Vocalist.