San Francisco jazz and blues vocalist, Pamela Rose has thrilled local and international audiences for decades with her swinging, soulful style. Rose has performed at clubs and jazz and blues festivals throughout the United States, Germany, and Denmark. She has six recordings to her name.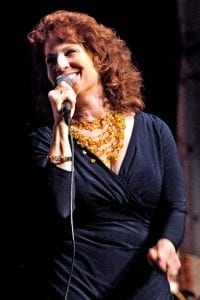 In recent years, Rose has toured nationally with her critically acclaimed show Wild Women of Song: Great Gal Composers of the Jazz Era and her more recent Blues is a Woman, a collaborative show among five exceptional blues musicians  that tells the remarkable story of women and the blues.


Introduction:  How Pamela got into singing and songwriting
3:20 Inspiration:  Women in blues – a story of personal freedom
4:03 Early start:  singing with ZaSu Pitts Memorial Orchestra
4:43 Taco Bell girl and California Raisin Advisory Board ads + singing jingles
8:00 How Wild Women of Song came into being
8:54 Singing jazz standards and the names of women composers
10:06 Deep dive on Lil Hardin Armstrong's forbidden career:  hot jazz & blues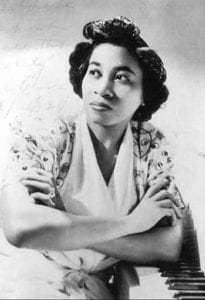 12:20 Lil Hardin Armstrong:  touched by early jazz + playing with King Oliver & his Creole Jazz Band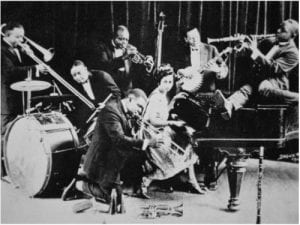 13:13 How Lil Hardin Armstrong's effecct on Louis Armstrong's career
More on all Pamela's work here!
~ ~ ~ Part 2 of this interview with Pamela Rose, including more on her show Blues is a Woman is now available:

Take me to part two!
Before you go:  Is there someone you should share this with? You can also subscribe for more from Agile Vocalist when it comes out. Thanks for listening!
Episode Transcript
[Spoken intro: "Listen to this next Agile Vocalist blogcast" + music]
Rachel: Pamela Rose is a San Francisco jazz and blues vocalist who's thrilled local and international audiences for decades with her swinging, soulful style. Rose has performed at clubs and jazz and blues festivals throughout the United States, Germany, and Denmark. She has six recordings to her name, including the NPR featured, You Could Have It All.
In recent years, Rose has toured nationally with her critically acclaimed show, Wild Women of Song Great Gal Composers of the Jazz Era, performing at a range of venues, including SF Jazz, the Monterey Jazz Festival, Stanford Jazz, Cal Performances, Copenhagen Jazz Festival, Yoshi's, The Fillmore Jazz Festival, and more. Please join me for this conversation celebrating women's history month and international women's day with Pamela. I'd love for you to kick it off with talking about how you got your roots in singing.
Pamela: Oh, well, like I tell my students, I think we all come out singing though some of us stopped doing it. I always loved to sing, but I was very introverted. Me and my sisters, I think what we all did, you'd put on the records and you'd grab your hairbrushes as a microphone and you do all the backup parts. One of you would do the– You know. We would do that.
Rachel: Do you have any favorite songs from those memories with your sisters?
[laughter]
Pamela: We knew every song from Bye Bye Birdie. That I've definitely remembered.
Rachel: Okay.
Pamela: [sing/speaks] "Hi Sally…" and we'd do a little dance and I want it to be Ann Margaret always, but-
Rachel: Ah.
Pamela: -I didn't take singing that seriously at some point in the late '60s because I'm old. Like a lot of people, I picked up a guitar and started writing my own songs and listening to Janis Ian and the folkies and Joni Mitchell and-
Rachel: Of course.
Pamela: -I started writing songs and I would just hang out with the musicians at school and we would jam and we'd play. I can't play very well. I never really learned much about seriously playing, but I could get my ideas across. I just loved that. I loved hanging with musicians, but I really love to write, and that carried me through to college. I was a literature major. I always loved a well-written lyric and the story and song is a huge blues fanatic. That has definitely colored a lot of how I feel, especially we'll talk about it later I'm sure, but women in blues is really so much of a story of personal freedom, and I was very inspired by that.
Somehow, I would find bands and I would show them my songs and I would say, "How about doing these songs?" They would inevitably say, "Yes, but we want you to sing them." I ended up doing a bunch of demos and then playing clubs with people and I was in a number of original blues and rock and roll bands and playing clubs in San Francisco. I played a lot of blues and rock clubs and that's really how I got my start.
I was lucky enough to be asked to join a very big successful R&B Motown review. It was called ZaSu Pitts Memorial Orchestra and suddenly I was doing six nights a week, two shows a day all over the country. I sing a lot of jingles.
Rachel: Wow.
Pamela: I was doing what I wanted to do, which was to make a living, singing and playing music.
Rachel: Any jingle that you loved? I mean, they all become earworms. They're written to be earworms.
Pamela: I just found my old demo tapes with the one I totally loved is, I was the Taco Bell girl for quite a few years and there was this series of ads they did called, "Hello, hello, Taco Bell." They had this whole series of them and Greil Marcus of Rolling Stone actually wrote this hysterical little review about these ads that were everywhere saying, "The salacious nature of this singer, Pamela Rose who lives in the bay area, to convince you that more than anything in the world, she wants that taco." That was his hysterical. He was slightly dissing it, but it was quite all over the place.
Rachel: Oh, that's fun.
Pamela: I was lucky enough to be one of the background singers on the California Raisin Advisory Board, Heard it Through the Grapevine ads and they used my background track for everything they did for years. All the TV ads and all the radio ads, and that was a good point that helped me out a lot.
Rachel: Wow.
Pamela: Jingles singing teaches you a lot about performance, by the way.
Rachel: I bet.
Pamela: You have to be very precise as a vocalist, whether it's singing backups, you have to blend right, you have to be right on the money, but there's a great amount of sincerity and authenticity [chuckles]. You must deliver in 10 seconds and that taught me a lot about how to summit it up. Forget about this thing about, "I'm not in the mood." You get the mood.
Rachel: Just because as singers living through the pandemic of 2020, we're all digital now and so I'm not getting away with the murder I used to, which was like, "Oh, well it's already out of my mouth, so I'm not responsible," but now it's every little thing. Would you say that's true for jingles is like-
Pamela: That's forever.
Rachel: -every little thing has to be just nailed.
Pamela: No, it did. Let me say, oh, you youngsters that are living in that wonderful era of pro-tools, recording back then there was no pitch adjustment or, I'll just shift this over half a beat, which… you can make anything sound perfect now. I think that has been a great thing, but it's been a terrible also dilemma, I think for classical musicians and jazz musicians, because you don't want to sound perfect. You want to sound exactly as you are in the room in this moment. It's a great tool, but back then kids, you had to really do it right and if they didn't have it right, the way that they cut tape even like it was literally slicing tape, slicing it, and splicing it back together if you wanted to lose a few measures. That's what you did.
It all came out from this crazy moment where I was actually singing in Germany and I finished a set and I just happened to notice that all of the songs I had just sung in that set were written by women and I made an announcement to that effect and it got this huge response, which made me happy, but then I thought about it later. I thought, "Why were we so surprised?" It got me thinking about all of the extraordinary women composers, that it would be great–
I just thought the next record I do, I'm going to feature women composers and it was going to be a jazz standard swinging from the swing era. I got this great producer, Leslie Ann Jones. She was very excited about it and that was simply, it was just a concept album. If you sing for standards for a living, or if you're a jazz singer, you do learn the name of a lot of composers. Even if they aren't one of the Gershwins or Cole Porter, you learn Harold Arlin, you learn Johnny Mercer, you learn Sigmund Romberg, you learn a lot of their names.
Then you come to a song that is really well-known like, On The Sunny Side Of The Street and you say it was written by Dorothy Fields. Well, who's Dorothy Fields?. Or You Always Hurt The One You Love written by Doris Fisher. Who's Doris Fisher? When I started to dig into their catalog, quite a lot of these women were phenomenally prolific and important to music and yet their names, unless they were also a singer Peggy Lee or Alberta Hunter, some of the singer-songwriters, that if you were not that, your name was unknown to us.
I started asking the question, well, why is that first of all and second of all wouldn't it be great to tell these stories. Lil Hardin Armstrong. She was not just his wife, but she was– If you have pictures of it, at some point you might want to put it up. She had the luck to be– She was a really good pianist. She was a classically trained pianist who just fell in love with hot music, with jazz and blues. The story is that her mother who was just trying so hard to elevate her daughter and not have her fall into– She wanted her to be a good Christian girl and maybe a school teacher. Lil, she found a copy of St. Louis Blues, which was W.C. Handy song, the music under her bed and she whipped her daughter with a broomstick.
Rachel: I remember reading that.
Pamela: It was forbidden music. For the churchgoers, it was like the devil's music. Little Lil used to go down to back then, in order to sell sheet music, you always had somebody at the piano in the music store who was sampling the songs for the customers. She was so frustrated at the way somebody played. She goes, "Well, let me play it." She played so well. They said, "How'd you like a job?" She became the little darling of this store in Chicago, and there's great story, how Jelly Roll Morton comes in one day. He's one of the greatest jazz pianists ever, pre–Art Tatum. Everybody said, "Well, you've got to hear our–" He played, and she was blown away, mostly about his rhythm.
Then she played, and he really liked her, but she said that she was inspired by being that kind of rhythmic player. Eventually, she became part of what was the really early sound like jazz musicians had come up from New Orleans and they had come to Chicago and King Oliver had this extraordinary band that she was the piano player for, and there's great pictures of King Oliver and Lil that's really famous. She had a sound that what her job was because they really didn't have bass players like we think of. They usually had a tuba and maybe you had drums, sometimes you didn't.
The piano player's job was to send it home. She was such a good rhythm player. Then King Oliver, he was a great trumpet player and he wanted a strong second trumpet, and he brought Louis up from New Orleans who was a total rube. He was a star in New Orleans. He was an amazing raw talent, but Lil took one look at him, and she said, "Oh my God." He came off the train and he was dressed like a country bumpkin, and his hair was all slicked back, and he was carrying this greasy sack full of fish sandwiches from the ride, and she said, "There's no way", but then she heard him play, and she was blown away.
She made him go back and practice and really learn to read and write music, not just kind of learn, but really understand it and to play really– have a much better theory idea so that his solos could really soar. Then later, she's the one who pushed him to go out under his own name because he was quite the star. People were coming to see him and she said, "You should have your own name."
She pushed him to do that. He said he would have never done that if she hadn't pushed him. He was a star, but a lot of his fame, he really owes to her because she put him in that position. Yes, the marriage didn't last, but he was always her heartache. He was the one, he was the one. She died seven weeks after his death playing onstage, playing a tribute to him. She played St. Louis Blues, actually. At the very last note, they said, "She just expired right there."
Rachel: Oh, my God.
[Spoken outro:  "That was inspiring. Be sure to listen again soon + music]