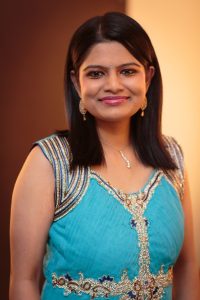 Vocalist, Vidya Srinivasan.
Classically trained from a very young age, Vidya Srinivasan shares her story–first as a trained Indian classical music singer who later turned to the sciences and a career working in high tech. Srinivasan grew up in India and then came to the U.S. for graduate school to study computer science.
In this part 1 of a two-part interview, Vidya shares:
How her mother instilled a love of music in her from a very early age
A performance of 4 types of music, including a Carnatic song in Telugu and film songs
How she used music in times of great life transition after she came to the U.S. for graduate school and beyond
How the arts are regarded in India vs. the U.S.
Her varied life balancing music, a career in technology, motherhood and a passionate dedication to diversity and inclusion efforts for women, including being the  General Chair of the Grace Hopper conference for the past 3 years.
Biography:
Vidya Srinivasan was introduced to the world of music at age 2 by her parents. Enrolled in music school at age 3 to learn Carnatic music, she gave her first solo concert at age 5. She holds a degree in Carnatic music. Vidya has performed in 4 Indian TV shows in Tamil and Telugu and numerous stage shows. Her voice appeared in Sapthaswarangal and Ennodu Paatu Paadungal, both popular Tamil reality music TV shows.
Vidya sings in 4 different languages and likes to experiment across different music types to create hybrid mashups. Music is her favorite escape from her work in technology and Vidya often opens her tech talks with a song.
Vidya has been the General Chair of Grace Hopper conference since 2019.  Her love of tinkering with tech and has won her awards at Hackathons and so far she has filed 21 patents for her work.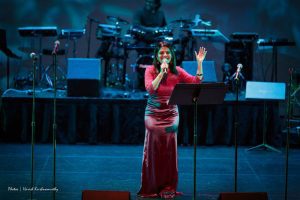 Vidya Srinivasan performing on stage. Photo by Harish Krishnamurthy.
Did you enjoy this episode? We hope so! Subscribe to hear future interviews not just with singers, but also with sound makers and the powerful ways sound touches life.
Episode Transcript:
Coming soon!