Many of us believe in deity. I believe the omnipresence of music and sound gives us all a means to connect with a similar kind of thing: a force, or forces, greater than ourselves.
It's because of my listeners, guests and supporters that I'm excited to be heading Agile Vocalist into season 3. This is my grace note to all of them. Merriam Webster defines a grace note as an ornamental note called an appoggiatura. There aren't many arts podcasts out there like Agile Vocalist, but in my heart I know it's important to continue finding and amplifying these stories of sound that leave us feeling a sense of awe, healing, and of interconnectedness with each other.
🎬 While season 2 itself is a wrap, I hope you'll join the retrospective celebration and enter to win fun listener gifts! See the Win Eclectic Swag Section below!
Click the image below to listen:

Neuroscience of Music: Season 2 Recap
According to Dr. Michael Merzenich, a neuroscientist at the University of California, San Francisco, "the brain is a prediction machine, and it's constantly trying to predict what's going to happen next." In its constant search for patterns and regularities, our brains are also searching amid the sounds we hear.
When we understand our brains and our bodies as one entity, we can thrive with both the head and the heart together. Relatedly, I try to make every episode of this arts podcast a unifying experience that satisfies both our logical, practical and intellectual needs as well as our emotional and psychic ones.
In this past season 2, several of my guests also touched on the neuroscientific aspects of the arts.
Women in Music, Music in Communities
Animals and the Sound of Laughter
Win Eclectic Agile Vocalist Swag: April 30th Deadline
You are invited to join in the season 2 celebration by sending me a quick email to enter to win Agile Vocalist gifts that stimulate your senses. That's right, it's your chance to win fun Agile Vocalist swag that inspire you to listen by activating your sense of taste, smell, touch and sight!
How to Enter to Win
Send an email to agilevocalist AT gmail DOT com to enter to win.
In your email, tell me your name, the country you live in (to make sure I can send you gifts if you win), and how you listen (do you listen on the web site here, or via podcast distribution services like Apple, Google or Spotify?
This email will not subscribe you to newsletter, (you can do that here) it's just a chance to win!
Past Guests: What's New
Some of my past guests have new things happening. Soul and gospel music enthusiast Opal Nations has published two new works:
Early Deep Soul Divas 1954-1962 / a CD collection of early female soul singers. Compiled and annotated by

Opal

Louis Nations. The collection is a first exciting dig into the hearts and minds of the female Black music culture at it's most profound during the late 1950s-early 1960s. Features great early soul tracks by: Mitty Collier, Betty Everett, Barbara Lynn, Ann Cole, Carla Thomas, Mavis Staples & The Staple Singers, Ruth Brown, Etta James, Betty Lavette and more!

 

Rhymes For Short Parents with Tall Children

– a book of fiction by

Opal

Louis Nations. A clever new collection of wordplay and absurdist fiction reveals a remarkable range of styles — parody, pastiche, Oulipian constraints, and Edward Lear-like nonsense verse.

 
Expressive Arts Refuge and Choral director, Betsy Blakeslee has ongoing opportunities to sing (no experience necessary!) for San Francisco Bay Area residents:
An Arts Podcast You Can Browse
I'm very thankful for the diversity and amazing stories my guests have shared, but how can you make sense of it all and find what interests you most? I'm happy to announce there's a new way to explore episodes you may have missed either here on the web site, or wherever you get your podcasts.
If you listen here on the web, there is a new category sorter on the Episodes and Posts page to help you find the topics you want faster: just choose from the dropdown list!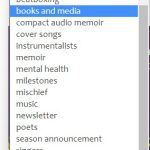 If you prefer to find episodes without the visuals and liner notes, visit my Buzzsprout arts podcast web site here.
More Agile Vocalist Digital Extras
Want to know what's behind the episodes? Check out more visual content on my YouTube community page:  https://www.youtube.com/@RachelMedanic/community
I also occasionally write about sound on Medium! If you're part of that community, you can find stories at: https://vampituity.medium.com/