An endangered species of parrot–right in San Francisco?! I talked to Frida the parrot as she was on exhibit as part of a larger an immersive art experience. This Agile Vocalist episode dives into animal sounds and share a one-of-a-kind recording of my interactions with a parrot I went to "interview." Our interactions proved some of the most varied from any she'd had and marveled her owners, hosts and artists at San Francisco's Gregangelo Museum.
Animal Sounds
I have always treasured that I connect so easily with animals and am delighted to focus an episode on animal sounds. As you listen and read the liner notes, I hope your empathy and understanding will grow. We need to take care of the animal kingdom; they are a lot closer to aspects of our humanity than we realize.
A Center of Gravity for Artists in San Francisco
I'd like to thank Gregangelo Herrera and Marcelo Defreitas of the Gregangelo Museum for this special opportunity with Frida the parrot. Gregangelo is also part of the career story from classically trained opera singer, Diva Marisa, in a previous episode.
Click the image below to listen on YouTube: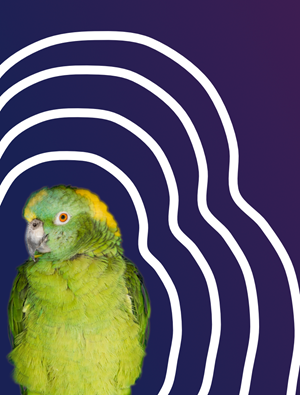 To listen to this episode as a podcast, search for Agile Vocalist anywhere you get your podcasts.

The Animal Sounds Narrators
Narrators 1-3:  David Watt, Rachel Medanic, and Chloë Medanic-Watt
Snippets of my over an hour-long interactions with Frida, the parrot
Laughter you'll hear:  Guest laugher, Dayna Gowan, Rachel Medanic, Chloë Medanic-Watt, Frida the parrot
You won't always know which is Frida and which is a human so…you'll need to listen!
Did you enjoy this? Please share it with your arts and sound-loving friends. Don't forget to subscribe to Sound Cocktails, the Agile Vocalist newsletter.
Episode Transcript:  Coming Soon!