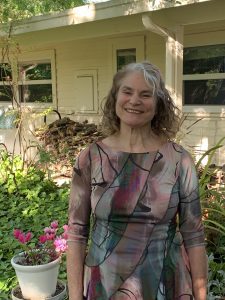 Betsy Blakeslee's work has connected refugees with the healing power of music for two decades. She first found her passion for directing choruses in 6th grade and her work bringing people and music together continues to grow.
Betsy's work sits at the helm of three projects – World Harmony Chorus – Oakland, California, Expressive Arts Refuge, and VerbQ. She directed expressive arts programs for refugee youth in Bosnia and Croatia during the wars of the 1990s. Since 2016, her Expressive Arts Refuge team and Moira Smiley have been running similar programs at refugee camps in France, Greece, and Lebanon.
Betsy Blakeslee is the co-author on forthcoming book about the Calais Jungle refugee camp.
To listen to this episode as a podcast, search for Agile Vocalist anywhere you get your podcasts.
Refugees Coming to France
By using music and body percussion as expressive art, she's witnessed healing and the re-shaping of trauma for refugees. In this episode, we discuss her experiences in the Jungle in Calais, France and the transformations she has witnessed when you give refugees just a little bit of stability in their lives.
Body Music and Sound Helping Re-Shape Refugee Experiences
We also dive into the brain science of entraining, the transformations body music can evoke, and the connective, oxytocin-producing power that gets evoked when humans are make music together (you've felt it too if you've ever been to a concert where the fans are singing together).
In this episode you'll hear:
Stories about Sudanese and Syrian children and teens in refugee camps and their enthusiastic participation in fine and performing arts.
How Maslow's Hierarchy of Needs is not rigid; a little bit of shelter, food and stability opens the way for the arts to come in and shift refugee experiences.
What expressive arts is and how it can transform someone's life.
Betsy's work in Calais, France and in the Jungle working with Moira Smiley and a volunteer team to help refugees.
A demo of what Betsy does. I had Betsy take me through learning a song and body music choreography that she teaches to refugees to make sound a whole-body experience that activates the brain.
A before and after story of a young man Betsy worked with as a refugee now living in England and on course to a more stable life.
A perspective on what it means to be a white western volunteer coming in to "help."
How entraining works among people making music together.
Why music happens while we are peaceful and seeking harmony but not while we are being violent. How it creates unity among people being together.

Also mentioned in this episode:
Did you enjoy this? Please share it with your arts and sound-loving friends, or leave me a comment. Don't forget to subscribe for more from Agile Vocalist.
Episode Transcript:  Coming soon!