Diva Marisa is in search of opportunities to offer audiences music in context. As a conservatory-trained opera singer and community member of Death Guild Thunderdome (performances happen at Burning Man), she talks about Burning Man's impact  on experiential art everywhere. Bringing opera to Burning Man has helped Marisa reimagine and expand the audiences that appreciate opera. Marisa's early vocal experiences at first caused her to reject opera, but then she fell back in love with the intensity and dedication required to be a performer.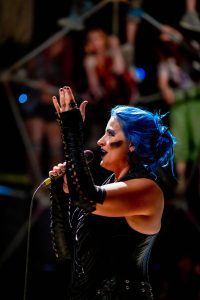 Image: Luc Asbury
With her San Francisco Bay Area roots, Marisa was first cast by Gregangelo Museum and Velocity Circus founder, Gregangelo Herrera to sing her signature piece, Diva Dance–from the movie The Fifth Element. That partnership grew to new heights (ahem) as she began to perform in unique contexts, including singing while on the trapeze for Gregangelo Museum events and beyond.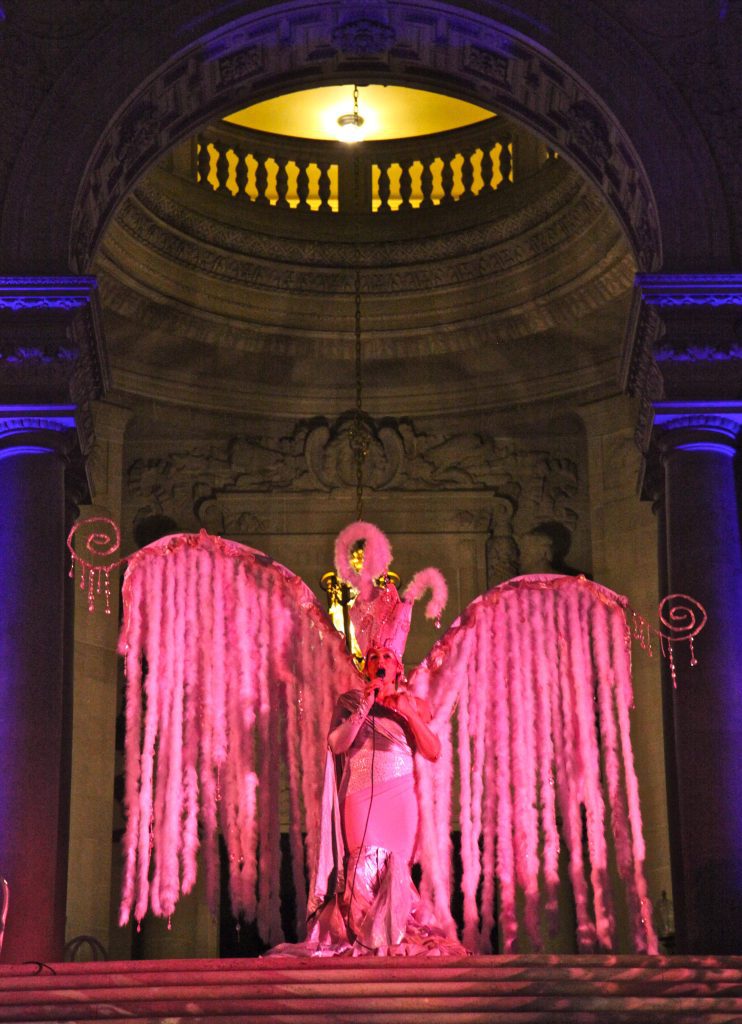 Image courtesy of Velocity Circus.
This episode is being released on the 20th anniversary of when Marisa's first performance of opera at Burning Man.
To listen to this episode as a podcast, search for Agile Vocalist anywhere you get your podcasts.
Marisa's Bio:
Diva Marisa is a maverick singer and performer based in the San Francisco Bay Area. As a  conservatory-trained opera singer, Marisa has sung with the San Francisco Opera, the Oakland East Bay Symphony, Chris Brubeck, and multiple times in recital with Frederica von Stade. Marisa also sings opera on the trapeze in various settings, including the Thunderdome at Burning Man. Her signature aria is Diva Dance from the movie The Fifth Element.
She has sung for celebrities from Rwanda's President Paul Kagame to Jean-Paul Gaultier. When he heard her sing, Francis Ford Coppola added a singing scene for her in his indie vampire movie, Twixt. 
In 2017, Marisa conceived and created Third Wall Music, a salon-style performance concept that brings music, and the stories behind them, into people's homes. Marisa is always looking for unique places to perform, particularly for audiences who are not familiar with opera. Through Third Wall as well as other productions, Marisa seeks to educate, to perform music in context, and to elevate other performers and provide new performance experiences.

In this episode, Marisa talks about:

In this episode, you'll hear Marisa sing:
Hildegard von Bingen in Le Mont Saint Michel

"Freebird" by Lynyrd Skynyrd

"Diva Dance" from the movie, The Fifth Element

The types of soprano voices there are and what coloratura is, an excerpt from one of her porch concerts 

"Queen of the Night" from Mozart's Magic Flute

"Musetta's Waltz" from Puccini's La Bohème

"Juliet's Waltz" from Romeo and Juliet by Charles Gounod

"O mio babbino caro" from Giacomo Puccini's Gianni Schicchi
Did you enjoy this? Please share it with your arts and sound-loving friends. Don't forget to subscribe for more from Agile Vocalist.
Episode Transcript:  Coming soon!