Cellista was trained as a classical cellist but detached herself from that label while in graduate school at San Francisco State. There, she was inspired to collaborate with other art forms such as movement and visual artists. While studying musicology she found herself called by the work of French Realists and the creative possibilities of cross-art collaboration. Cellista cites John Cocteau as one of her biggest influences in being fearless about crossing artistic and multi-media boundaries.
Cellista sees cello and her collaborative art as a reflection of historical and time and place. Her Transfigurations album was a direct response to gentrification artists in the San Francisco Bay Area were experiencing. As a believer that art emanates from place and local culture, Cellista creates stage poems (acts of resistance art) that always include pillars of literature, film, music and dance. 
Stage Poems for Cello and More
Cellista has released 7 albums including Finding San Jose, Transfigurations, Juxtapositions and her critically acclaimed Pariah, a fairytale story of a woman exiled because she spoke truth to power. Her work continues on and takes to the trapeze for her upcoming one-woman show, Elegie. 
Cello and the Arts in Society and Government
Cellista was also a San Jose Arts Commissioner in California. In that role she faced the realities that what artists need most are affordable housing and easier permitting and zoning for performance spaces. She believes from place comes local culture and advocates that wherever possible, artists need to be more involved in advocacy by being involved in their local government. Cellista came close to starting a campaign to run for a San Jose City Council position, but the effort was derailed by Covid-19; instead she returned home to Colorado.
My thanks to the staff at the City of San José's Cultural Affairs for connecting me with Cellista!
Click the image to listen on YouTube:
About Cellista
Los Angeles-based Cellista is a performance artist with creative roots in the San Francisco Bay Area and Colorado. She creates stage poems (narrative multimedia works) inspired by the artist Jean Cocteau, to juxtapose seemingly disparate elements. Cellista's stage poems are acts of resistance art and they investigate the ruptures of daily life and break down the borders between audiences and performers, disciplines, and genres.
Cellista is a sought after collaborator who has worked with Grammy-nominated artist Tanya Donelly, producer John Vanderslice, Troyboi, Don McLean, Casey Crescenzo (The Dear Hunter), Van Dyke Parks and more. Her compositions and performances have been heard on film and TV including PBS and she has appeared as an extra on the TV shows Better Things and Will & Grace playing her cello.
In 2021, Cellista released her stage poem Pariah to critical acclaim. The operatic fairy tale features a companion book by the philosopher Frank Seeburger and explores themes of othering and exile within our communities.
She is a former chapter governor of the Recording Academy and a former San Jose arts commissioner. She's the founding artistic director of House of Cellista in Longmont, CO– a micro-center for the arts which advocates for and offers subsidized housing to working artists. Cellista's upcoming work, Elegie, is a stage poem for static trapeze, silent film, and cello.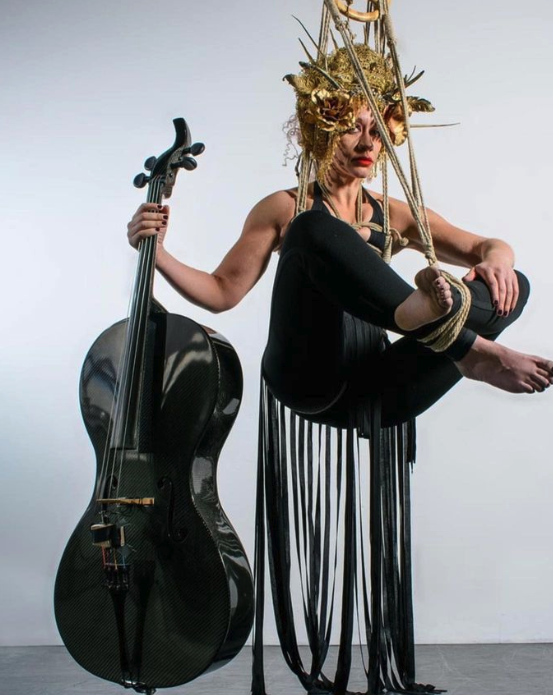 To listen to this episode as a podcast, search for Agile Vocalist anywhere you get your podcasts.

More about Cellista
Jean Cocteau
Noise music
Stage poems
Cellista's stage poem Transfigurations
Pariah, her fairytale album of a woman's exile
The Recording Academy
San Jose Arts Commission
Dark Garden Corsetry
Rachel Riot
Elegie, Cellista's future one-woman show to incorporate trapeze
Songs You'll Hear in this Episode
Look Homeward, Angel, Tzeva Adom and Rupture III from Transfigurations

Interlude 1, Moi Voisin, 

Finding San Jose I Know the Way, and

 Lament from Finding San Jose
Did you enjoy this? Please share it with your arts and sound-loving friends. Don't forget to subscribe to Sound Cocktails, the Agile Vocalist newsletter.
Episode Transcript:  Coming Soon!