What does it take to synchronize light and sound? Co-creators Rob Jensen and Warren Trezevant, talk about their work creating Sonic Runway, an art installation converging sound and light that they conceived at Burning Man. Sonic Runway immerses the spectator in colorful synchronized visuals that animate the speed, tempo and feeling of sound into dazzling light displays people can immerse themselves in to experience sound in a whole new way.
Hear the story behind their meticulous sound creation process, making the exhibit first for Burning Man in 2003 and how its success grew to transform it into a traveling exhibit to sites around the U.S., England, Canada, and finally to a replicated exhibit in Chengdu China. Sonic Runway is on display in downtown San Jose, California through 2028.
Creating Sonic Runway has reshaped the perception of sound for thousands of people around the world and it also is the passion hobby of a dedicated group of people. The communal experience of the Runway has left audiences smiling, marveling and connecting with each other.
Click the image to listen on YouTube:
About Rob Jensen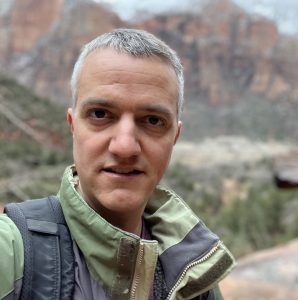 Rob Jensen conceived the Sonic Runway while observing the effects of sound at Burning Man in 2002. As a visual artist, engineer, and musician, Rob has always been drawn to the intersection of science and art. Rob's day job also combines art and technology, where he alternates between animating and engineering at Pixar Animation Studios.

About Warren Trezevant
Warren enjoys creating experiences of wonder. He's brought characters to life in movies, as a former animator at Pixar Animation Studios. He also brings them to life in the real world with the stroboscopic Toy Story Zoetrope, Peter Hudson's large-scale zoetropes Charon and Eternal Return, as well as the breathing for Marco Cochrane's R_Evolution.
To listen to this episode as a podcast, search for Agile Vocalist anywhere you get your podcasts.

Music in this Episode
Did you enjoy this? Please share it with your arts and sound-loving friends. Don't forget to subscribe to Sound Cocktails, the Agile Vocalist newsletter.
Episode Transcript:  Coming Soon!