Could your daily life use a moment of tranquility? Melissa Felsenstein, the founder of Innersounds Meditation, reveals how the sound bath can be your haven. Not only did Melissa use sound healing as a therapeutic technique to conquer her own battles with anxiety and depression, but she's also refined it into a unique formula to heal the nervous system, create internal calm, and now to train and certify future practitioners.
Melissa provides an inside look at her 200-hour professional sound healing practitioner course, designed to equip aspiring practitioners with the knowledge to become a professional sound healers. Melissa talks about the process of manufacturing crystal bowls and the gong–each with its own unique creation process, sound, and character.
Sound Bath in an Episode
Best of all, this extended episode features a custom sound bath which Melissa gives to you–the now listeners. Many thanks to our episode sponsor: Moon Landing Meditative Arts in Oakland, California.
Listen to her personal story of loss that led to her groundbreaking work in the profession and get a taste of the meditative state brought on by sonic waves as you listen and bathe in the episode. This unique Agile Vocalist episode will leave you feeling relaxed, healed, and curious to explore more.
Click the image to listen on YouTube: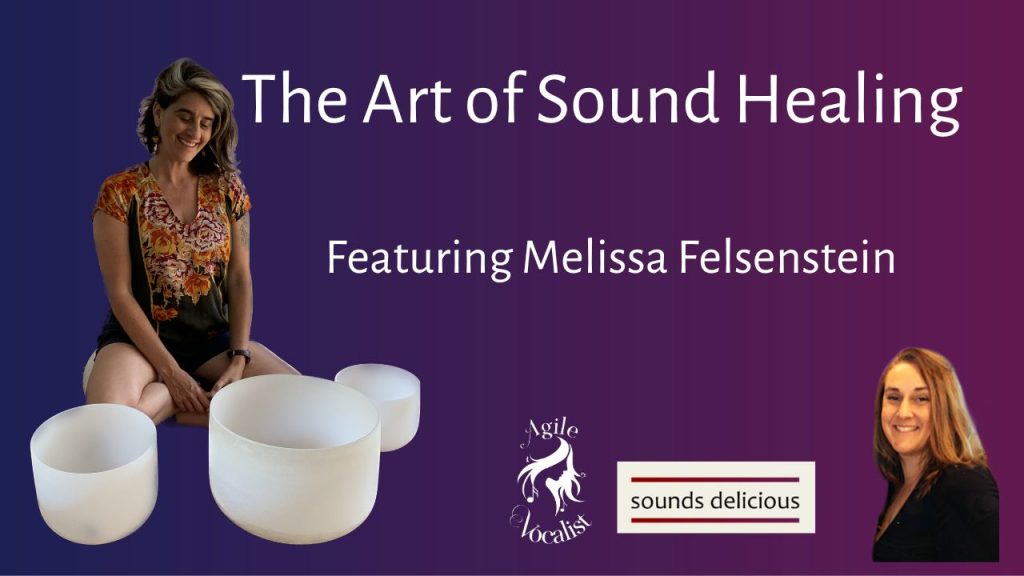 About Melissa Felsenstein
Melissa Felsenstein, founder of Inner Sounds Meditation, is a professional sound practitioner with over ten years of experience. A self-proclaimed ambassador of rest, Melissa delights in helping others return people to a calm, meditative, and deeply restful place.
During these profoundly restful states, during a sound bath your body begins engaging in an all-systems repair: reducing stress, easing sleep, strengthening immunity, enhancing intuition, deploying mood boosters and life just feels a whole lot better.
Melissa experienced all of these benefits herself when she used sound to heal her own vicious cycle of anxiety and depression. She has spent the last ten years refining her technique into a unique Inner Sounds formula, specifically designed to heal the nervous system and create an internal calm. Melissa now offers a 200 hr Professional Sound Healing Practitioner Course where she teaches others how to become professional sound healers.
To listen to this episode as a podcast, search for Agile Vocalist anywhere you get your podcasts.

Sounds in this Episode
The gong
Koshi chimes
Crystal bowls
Did you enjoy this? Please share it with your arts and sound-loving friends. Don't forget to subscribe to Sound Cocktails, the Agile Vocalist newsletter.
Episode Transcript:  Coming Soon!