In 2007 the Alphabet Rockers was formed by Tommy Soulati Shepard and Kaitlin McGaw to make music that makes change. Their work uses hip hop to create a more equitable world. In this conversation with Tommy and Kaitlin, we talked about their artistic journeys from backgrounds in theatre, spoken word, dance, beatboxing and more and how it culminated in hip hop. They share how they stay aligned as partners, their creative process, and the power and strategy behind everything that they create.
When you listen to Alphabet Rockers, you'll notice an empathic voice of children at the center of the content. Their creations stand out in how they explore the challenges and experiences of children. Their work encourages both children and adults to reflect on and deeply connect with others, their own experiences, and the results of their actions, non-actions and silence.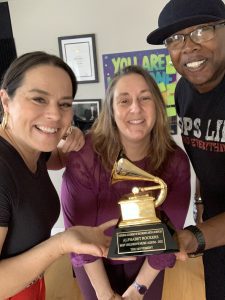 In 2023, these four-time Grammy award nominees won the Grammy for Best Children's Album along with three professional child artists: Kali de Jesus, Maya Fleming, and Tommy Shepherd III. Since 2017, the children have been songwriting and performing with the group while also attending Oakland School of the Arts and staying involved in extracurricular activities from music to sports. We took this picture with the Rockers' Grammy statue (it's heavy!) during the taping of the episode.
Click the image to listen on YouTube:​

Hip Hop for and by Children and Families
To make their Grammy-winning album The Movement, Alphabet Rockers' songwriting was rooted in interviews they did with people doing restorative justice.
During the Covid-19 pandemic, Alphabet Rockers developed a curriculum called "We Got Work to Do," to provide their audiences with inspiration on how to use music and dance as tools to combat racism. Alphabet Rockers has been featured by The Kennedy Center, the Smithsonian Museum of African American History and Culture, SXSW, and Lollapalooza. They bring the educational and performance power of hip hop to schools nationwide.
About Alphabet Rockers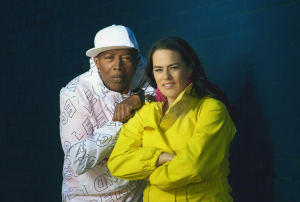 Photo: Nino Fernandez
Tommy Soulati Shepherd is an internationally renowned actor, playwright, composer, educator, rapper, drummer, beatboxer and music producer. Tommy is a member of Campo Santo, Antique Naked Soul, and co-founder of Alphabet Rockers. Tommy has composed, performed and toured internationally with Marc Bamuthi Joseph, collaborating on Scourge, the break/s, Spoken World, red, black and GREEN: a blues and /peh-LO-tah/. Tommy won a 2018 Isadora Duncan Award and is a four-time GRAMMY nominee. Tommy brings love for family, art, activism and community building to all of his work, sparking inspiration for a more joyful and equitable world. He is the proud father of Tommy Shepherd III (one of Alphabet Rockers youth artists), whom he is raising with his wife Anna.
Kaitlin McGaw is a writer, listener and co-founder of Alphabet Rockers based in Oakland, CA on Ohlone lands. Her path in anti-racism and art began as a youth in Belmont, MA, where community dialogue, activism, and poetry framed her purpose and relationship with the world. She is a graduate of Harvard University with a BA in Afro-American Studies, a four-time GRAMMY nominee, artist fellow and deeply committed partner for change. Kaitlin believes radical imagination begins with the way we read, sing, and ask questions of the world with our children. She is the mother of two creative children of her own, whom she is raising with her husband.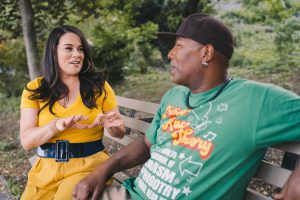 Photo: Sam Popp
To listen to this episode as a podcast, search for Agile Vocalist anywhere you get your podcasts.


Songs You'll Hear in this Episode
Did you enjoy this? Please share it with your arts and sound-loving friends. Don't forget to subscribe to Sound Cocktails, the Agile Vocalist newsletter.
Episode Transcript:  Coming Soon!