Listen. These stories are shared to nourish your own voice and creative percolation. Scroll down to subscribe to future sounds.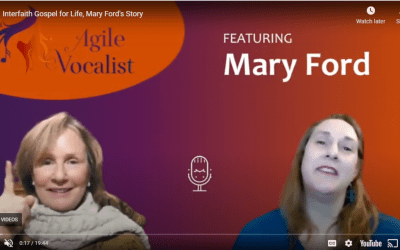 Mary Ford found music when her life nearly ended. In this interview, she talks about the power of singing on the body and how she is a midwife for her own vocal gifts when performing. As an accomplished gospel and a capella singer for over 30 years, Mary's wisdom is a singer and psychologist's view into the power of sound.
Get the Latest
Our time apart makes each Agile Vocalist entry sound that much sweeter when it's ready. Subscribe to hear it first and fastest each month.
Your identity and email are between you and me and will never be shared.